Equity markets globally have rebounded to their pre-Brexit levels and volatility in financial markets is the lowest that it has been for a month. Even the precious metals rally has taken a breather. Are the markets suggesting that the fallout from Brexit is less than previously thought and that the systemic risk posed by the UK leaving the EU is contained.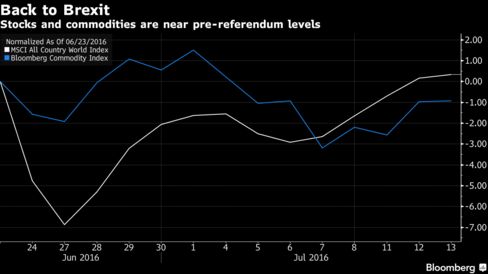 The emergence of Theresa May as the new Prime Minister of Great Britain has at least given a degree of certainty in what was looking like a political vacuum but is this enough to ease the nerves of the financial markets. In the short term, at least it would appear so.
Unexpectedly, calm is returning to global markets on speculation central bank action will be sufficient to restrict any Brexit contagion. Economists predict the Bank of England will cut interest rates Thursday, while Japanese Prime Minister Shinzo Abe has ordered more fiscal stimulus. Traders are pricing in less than 35 percent odds of the Federal Reserve raising rates this year.
Today, Bloomberg takes a look at what one Fund Manager has described; ""the strangest environment I've seen in 30 years"
The full report can be read here 

Gold and Silver Bullion – News and Prices
Gold hovers near previous session's lows on stronger equities (Reuters)
Gold plunges in broad risk-on trade, as Dow hits all-time high (Investing.com)
Silver surrenders gains to join gold's retreat (MarketWatch)
IMF sees 'negligible' Brexit impact on U.S. growth (Reuters)
US wholesale inventories rise slightly, sales extend gains (CNBC)
That's it: I'm calling the low on the pound (MoneyWeek)
Gold Prices (LBMA AM)
13 July: USD 1,340.25, EUR 1,211.45 & GBP 1,009.74 per ounce
12 July: USD 1,352.85, EUR 1,217.84 & GBP 1,029.11 per ounce
11 July: USD 1,358.25, EUR 1,231.66 & GBP 1,059.95 per ounce
08 July: USD 1,356.10, EUR 1,224.83 & GBP 1,047.45 per ounce
07 July: USD 1,367.10, EUR 1,233.40 & GBP 1,052.80 per ounce
06 July: USD 1,370.00, EUR 1,239.71 & GBP 1,059.01 per ounce
05 July: USD 1,344.75, EUR 1,207.05 & GBP 1,023.89 per ounce
Silver Prices (LBMA)
13 July: USD 20.29, EUR 18.31 & GBP 15.25 per ounce
12 July: USD 20.35, EUR 18.35 & GBP 15.47 per ounce
11 July: USD 20.47, EUR 18.53 & GBP 15.78 per ounce
08 July: USD 19.72, EUR 17.82 & GBP 15.20 per ounce
07 July: USD 19.95, EUR 18.00 & GBP 15.31 per ounce
06 July: USD 20.43, EUR 18.46 & GBP 15.75 per ounce
05 July: USD 19.73, EUR 17.69 & GBP 14.99 per ounce

Recent Market Updates
– Britain has a new prime minister – here's what that means for you
– Metals Caught Between Global Gloom, U.S. Job Gains as Gold Slips
– Central Bank Resumes Monthly Gold Buying in Bid to Diversify Reserves
– Property Fund Turmoil in the UK has Eerie Echoes of Bear Stearns
– "In Gold We Trust" Annual Report – New Bull Market "Emerging"
– 3 Charts Show "How Precious Brexit Is" for Gold and Silver Bullion
– Gold, Silver Best Performing Assets In H1, 2016 – Up 26% & 38%
– Gold Surges to $1,313/oz – Fed Concerned Re Outlook, BREXIT and May "Consider Using Helicopter Money"
– Gold Prices Higher For 5th Session On BREXIT and FED
– Soros Buying Gold On BREXIT, EU "Collapse" Risk
– UK Gold Demand Rises On BREXIT "Nerves"
The post Stocks Rally – Is Brexit Systemic Risks Contained? appeared first on GoldCore Gold Bullion Dealer.