Author:
John Carney and Matthew Boyle
Establishment GOP political committees spent a total of $4.7 million since the end of August.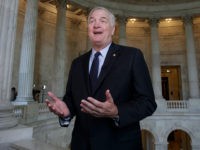 In a strange twist of fate, one of the key figures who helped bring about a transfer of jobs out of Alabama via a NAFTA-style free trade agreement with Central American countries is now campaigning for the Senate seat formerly occupied by Jeff Sessions. Even stranger still, his campaign ads promise that he will "Kill Unfair Trade Deals." His name is Luther Strange.