Better than expected employment figures in the US causes gold to take a breather after gaining more than 28% since the beginning of the year.
Bloomberg takes a look at the current competing bullish and bearish forces affecting the outlook for precious metals.
Metal markets are caught between global gloom and renewed U.S. optimism.
A six-week surge by gold, the quintessential haven investment, stalled on Friday as better-than-expected U.S. jobs data blunted global economic concern that has boosted safe-haven demand. Copper, often used as a barometer for the global economy, gained as much as 0.9 percent after the labor report.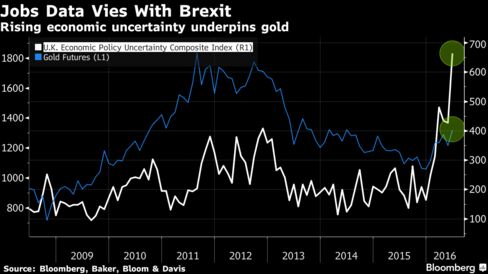 Gold has climbed 28 percent this year, with demand for havens surging after the U.K.'s Brexit vote and traders cutting bets on the Federal Reserve increasing interest rates this year. The Fed wants more proof that hiring has resumed a healthy pace and that economic momentum is intact before raising interest rates, minutes released Wednesday of last month's meeting showed.
The full report can be read
here

Gold and Silver Bullion – News and Prices
Gold steady on Brexit concerns despite firmer equities (Reuters)
Gold ends lower but books 6th straight weekly advance (Marketwatch)
U.S. economy posts largest job gains in eight months in June (Reuters)
PRECIOUS-Gold slides on U.S. payrolls before recovering (Reuters)
Citigroup Is 'Bullish Commodities' for '17 as Brexit to Fade (Bloomberg)
Gold Prices (LBMA AM)
11 July: USD 1,358.25, EUR 1,231.66 & GBP 1,059.95 per ounce
08 July: USD 1,356.10, EUR 1,224.83 & GBP 1,047.45 per ounce
07 July: USD 1,367.10, EUR 1,233.40 & GBP 1,052.80 per ounce
06 July: USD 1,370.00, EUR 1,239.71 & GBP 1,059.01 per ounce
05 July: USD 1,344.75, EUR 1,207.05 & GBP 1,023.89 per ounce
04 July: USD 1,348.75, EUR 1,213.07 & GBP 1,016.42 per ounce
01 July: USD 1,331.75, EUR 1,199.51 & GBP 1,001.34 per ounce
Silver Prices (LBMA)
11 July: USD 20.47, EUR 18.53 & GBP 15.78 per ounce
08 July: USD 19.72, EUR 17.82 & GBP 15.20 per ounce
07 July: USD 19.95, EUR 18.00 & GBP 15.31 per ounce
06 July: USD 20.43, EUR 18.46 & GBP 15.75 per ounce
05 July: USD 19.73, EUR 17.69 & GBP 14.99 per ounce
04 July: USD 20.36, EUR 18.31 & GBP 15.36 per ounce
01 July: USD 19.24, EUR 17.29 & GBP 14.48 per ounce

Recent Market Updates
– Central Bank Resumes Monthly Gold Buying in Bid to Diversify Reserves
– Property Fund Turmoil in the UK has Eerie Echoes of Bear Stearns
– "In Gold We Trust" Annual Report – New Bull Market "Emerging"
– 3 Charts Show "How Precious Brexit Is" for Gold and Silver Bullion
– Gold, Silver Best Performing Assets In H1, 2016 – Up 26% & 38%
– Gold Surges to $1,313/oz – Fed Concerned Re Outlook, BREXIT and May "Consider Using Helicopter Money"
– Gold Prices Higher For 5th Session On BREXIT and FED
– Soros Buying Gold On BREXIT, EU "Collapse" Risk
– UK Gold Demand Rises On BREXIT "Nerves"
– Pensions Timebomb in "Slow Motion Detonation" In UK, EU, U.S.
– Silver – Perfect Storm Brewing in the Market
The post Metals Caught Between Global Gloom and U.S. Job Gains appeared first on GoldCore Gold Bullion Dealer.